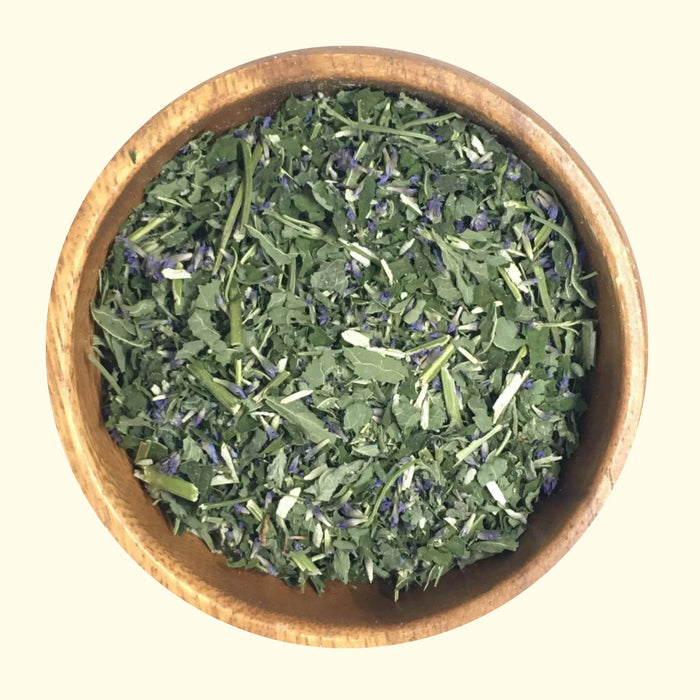 Anise Hyssop - Grown Organically
Dried Anise Hyssop aerial parts

Agastache foeniculum
Grown regeneratively and organically by one of the Meeting House Farm Collaborative Farms. Plants are dried immediately after harvest in an on-farm drying facility to maximize potency and preserve quality.

Pre-orders are closed until Spring of 2024.
For customers who pre-ordered from our 2023 harvest, you were put into a queue for the next harvested pound. Orders will ship out in the order they were received.
Smaller bags (1 oz and 4 oz sizes) will be made available once we have filled all pre-orders.
We typically harvest Anise Hyssop from June -September.
In the Apothecary:
Preparations:  Extract of fresh leaf and flower in alcohol or infusion of fresh or dried leaf & flower in water.   We use a 1:2 ratio for fresh leaf when extracting at Meeting House Farm.
Uses:  Digestive system support.  Expectorant with a distinctive anise flavor. This cooling herb is a wonderful addition to cough blends or digestive blends. 
Energetics:  cooling
Tastes: Anise, sweet
Herbal Action:  digestive, expectorant
From our Experience:
Beloved by our native bees.  Dried purple anise flowers are a beautiful accent to herbal tea (tisane) blends.  This herb combines well with Holy Basil, Lemon Balm, Mint or Elecampane
Save up to

0

%
Save %
Original price
$12.00
-
Original price
$40.00