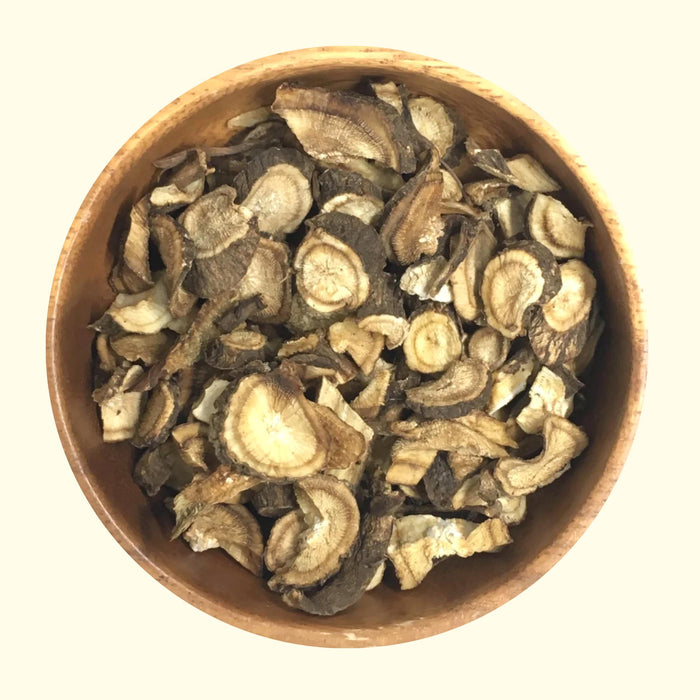 Burdock Root - Grown Organically
Burdock roots
Arctium lappa
Grown organically and regeneratively by one of the Meeting House Farm Collaborative Farms.  Available chipped.
Chipped roots are dried immediately after harvest in an on-farm drying facility to maximize potency and preserve quality.
Pre-orders are closed until Spring of 2024.
For customers who pre-ordered from our 2023 harvest, you were put into a queue for the next harvested pound. Orders will ship out in the order they were received.
Smaller bags (1 oz and 4 oz sizes) will be made available once we have filled all pre-orders.
We typically harvest Burdock from June – October.
In the Apothecary:
Preparations: Infusion, Culinary, extract.
Uses: Liver, immune and digestive system support.   Helps the body to remove toxins, immune system. 
Energetics:  Moist, Nutritive
Tastes: Bitter
Herbal Action: digestive, bitter, nutritive
From our Experience:
To prepare our bodies for the winter season, we love to add fresh burdock root to soups in the fall.  Dried burdock can also be added to your culinary adventures.  Burdock is also a wonderful support for good liver health and can be taken as an extract if you are working on your liver.
Sold Out
Original price
$10.00
-
Original price
$27.00