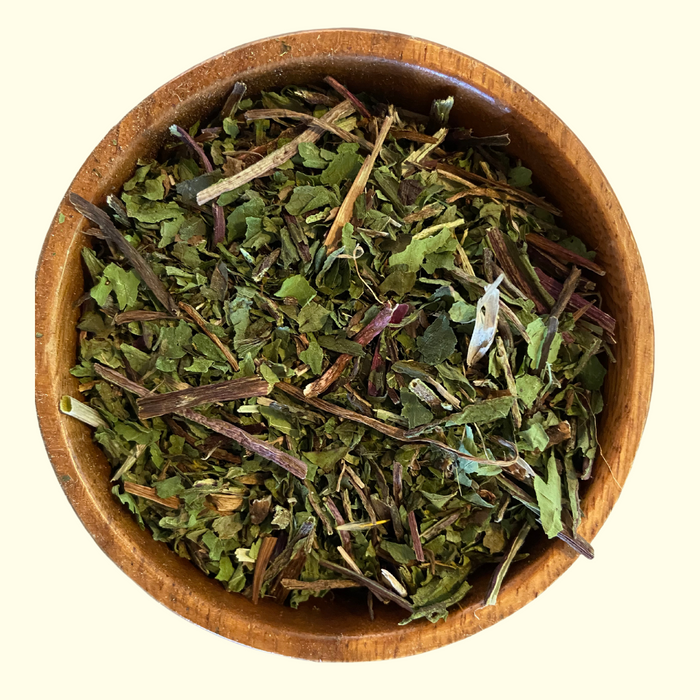 Dandelion Leaf - Grown Organically
Dried Dandelion Leaves
Taraxacum spp

Grown organically and regeneratively by one of the Meeting House Farm Collaborative Farms. Plants are dried immediately after harvest in an on-farm drying facility to maximize potency and preserve quality.
Pre-orders are closed until Spring of 2024.
For customers who pre-ordered from our 2023 harvest, you were put into a queue for the next harvested pound. Orders will ship out in the order they were received.
Smaller bags (1 oz and 4 oz sizes) will be made available once we have filled all pre-orders.
We typically harvest Dandelion Leaves from April to Late Fall. 
In the Apothecary:
Preparations: Extract of root, leaf, or flower in alcohol. Water Infusion of roasted root. Culinary. Vinegar extract of leaf.
Uses: Liver & digestive system support. 
Energetics:  Cooling & Moist
Tastes: Floral, Bitter, Salty, Mineral
Herbal Action:  Blood purifier, diuretic, liver, and gall bladder specific.
From our Experience:
Roast the roots to add a fabulous and healthy garnish to a salad.  Very bitter in infusions unless specifically blended to act in a coffee-like manner.  Dandelion greens make a fabulous liver-supporting pesto.  The blossoms make excellent fritters and wine. 
Sold Out
Original price
$10.00
-
Original price
$28.00