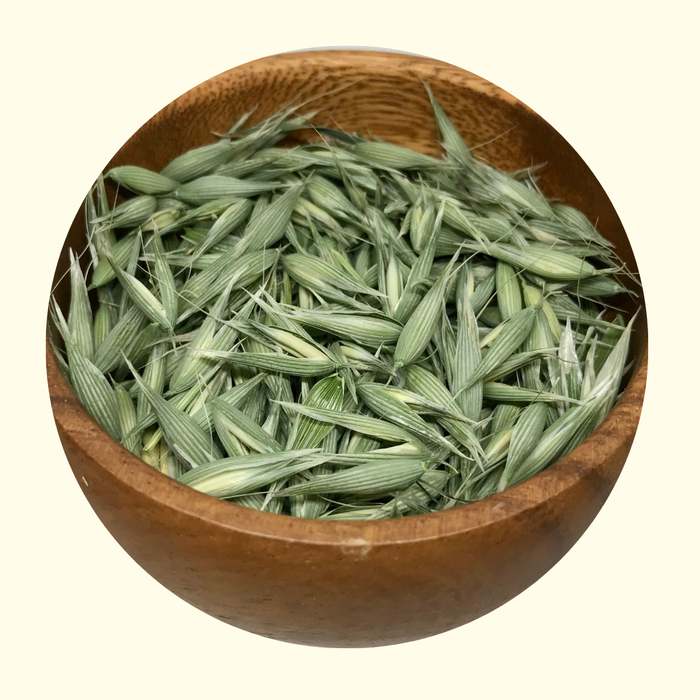 Milky Oat Tops
Oat buds harvested at the milky stage
Avena sativa
Grown regeneratively, following organic standards, by one of the Meeting House Farm Collaborative Farms.
Available fresh in season or dried.  
Fresh oat tops are shipped immediately after harvest to preserve quality and freshness and should arrive next-day in most cases.
Dried buds are dried immediately after harvest in an on-farm drying facility to maximize potency and preserve quality 
We typically harvest Milky Oat Tops in July through September. 
In the Apothecary:
Preparations:  Dried milky oats may be extracted in water.  We use a 1:5 ratio at Meeting House Farm.
Fresh milky oats may be extracted in water or alcohol.  We use a 1:2 ratio with our fresh milky oats.
Uses:  Nervous system support.  High in micro-nutrients.
Energetics:  Cooling & Moist
Tastes: Sweet
Herbal Action:  Nervine, nutritive.
From our Experience:
When blending herbal tisanes, milky oats typically act as the body herb.  They combine well with Holy Basil, Lemon Balm, and almost any other herb, adding a sweet note to any tisane.
Save up to

0

%
Save %
Original price
$12.00
-
Original price
$84.00