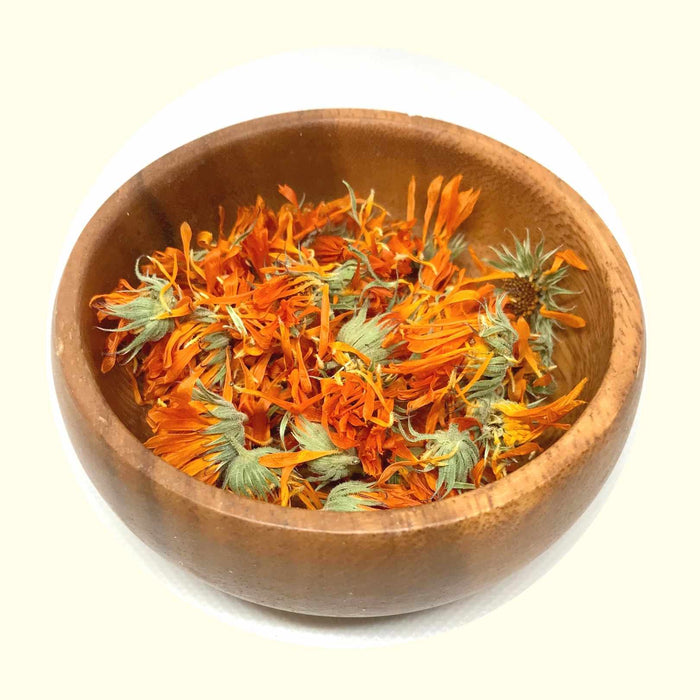 Calendula
Dried Calendula flowers
Calendula officinalis
Grown regeneratively, following organic standards, by one of the Meeting House Farm Collaborative Farms.
Plants are dried immediately after harvest in an on-farm drying facility to maximize potency and preserve quality.

Pre-orders are closed until Spring of 2024.
For customers who pre-ordered from our 2023 harvest, you were put into a queue for the next harvested pound. Orders will ship out in the order they were received.
Smaller bags (1 oz and 4 oz sizes) will be made available once we have filled all pre-orders.
We typically harvest Calendula from June through freeze.
In the Apothecary:
Preparations: Extract of fresh flower in alcohol or water. Or extract of dried flower in oil or water. We use a ratio of 1:2 for all fresh extracts and 1:5 for dried.
Uses:  Digestive and Lymphatic system support.  Skin support.
Energetics:  Cooling and Bitter
Tastes: Bitter, pungent.
Herbal Action:  Anti-Inflammatory, mild lymphatic, anti-microbial, vulnerably
From our Experience:
Dried Calendula is a lovely addition to a tisane (a water infusion/extract of dried herbs) adding a pop of color in addition to its herbal actions.  It is typically an accent herb in a blend.
Calendula supports healing in the lining of the GI tract.  The resin in calyx supports the skin's natural ability to build collagen and this in turn promotes skin healing. 
It is also a mild lymphatic and should not be used internally when pregnant without the guidance of a healthcare practitioner.
Always dry your blossoms before making infused oil.  While it's tempting to use fresh flowers, the moisture content is high, and most batches will spoil.

Save up to

0

%
Save %
Original price
$15.00
-
Original price
$55.00