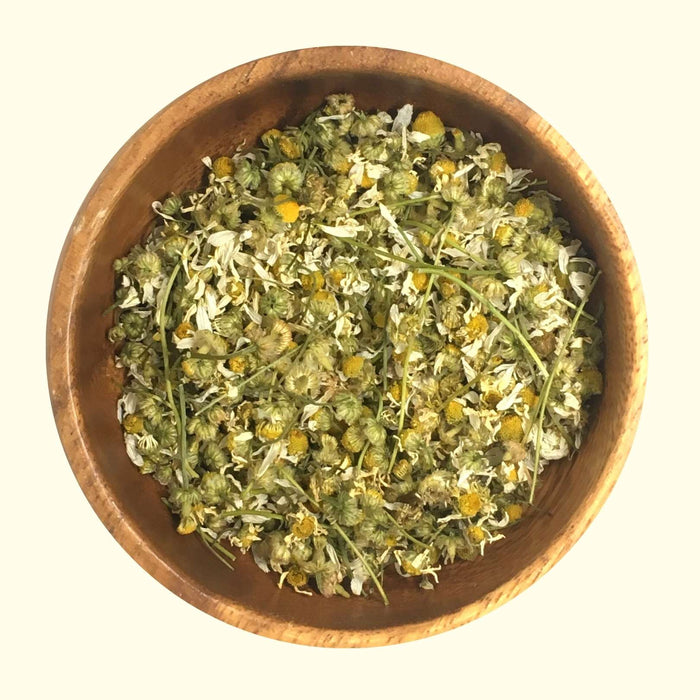 Chamomile (German) - Certified OG
Dried German Chamomile flowers
Matricaria recutita
Certified Organic by MOFGA and grown regeneratively by one of the Meeting House Farm Collaborative Farms.
Plants are dried immediately after harvest in an on-farm organic certified drying facility to maximize potency and preserve quality.
Infused oils: Organic jojoba extract is infused with dried German Chamomile for 8 days at 80 degrees to preserve potency of the plant constituents. Oil is double filtered after infusion but never pressed. Our oils will solidify at temperatures around 40 degrees. Bring them to room temperature for best results.

We typically harvest German Chamomile in July - September.
In the Apothecary:
Preparations: infusion or extract of flowers (fresh or dried)
Uses: Nervous & digestive system support.  Supports sleep and the rest & digest cycle. Soothes menstrual cramping.
Energetics:  cooling, drying, neutral
Tastes: sweet, bitter
Herbal Action:  carminative, mild nervine, tonic, aromatic, sedative
From our Experience:
Chamomile makes a bitter herbal infusion; one that is supportive to sleep and the rest & digest cycle.
When making a chamomile infusion, the longer the flowers steep the more bitter the brew, and the better for soothing digestive issues.
When blending herbal tisanes, chamomile typically acts as the accent herb and combines well with lemon balm, lavender, holy basil (tulsi), and milky oats.  Take care – if you are looking for tea to soothe an upset stomach don't add milky oats as they will dilute the bitterness of the tisane and you want a bitter tisane for an upset stomach.
Save up to

0

%
Save %
Original price
$19.00
-
Original price
$318.00