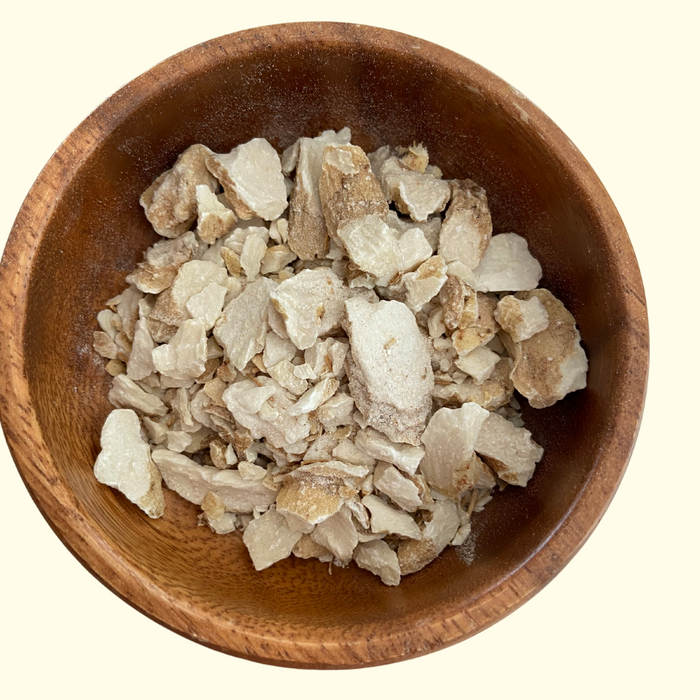 Solomon Seal Root - Certified OG
Solomon Seal Root
Polygonatum spp
Certified Organic by MOFGA and grown regeneratively by one of the Meeting House Farm Collaborative Farms.  
Available fresh or dried (chipped).
Fresh roots are shipped immediately after harvest to preserve quality and freshness and should arrive next-day in most cases.
Chipped roots are dried immediately after harvest in an on-farm organic certified drying facility to maximize potency and preserve quality.
Infused oils: Organic jojoba extract is infused with dried Solomon Seal roots for 8 days at 80 degrees to preserve potency of the plant constituents. Oil is double filtered after infusion but never pressed.
Pre-orders are closed until Spring of 2024.
For customers who pre-ordered from our 2023 harvest, you were put into a queue for the next harvested pound. Orders will ship out in the order they were received.
Smaller bags (1 oz and 4 oz sizes) will be made available once we have filled all pre-orders.
We typically harvest Solomon Seal Root in October.
Save up to

0

%
Save %
Original price
$23.00
-
Original price
$96.00